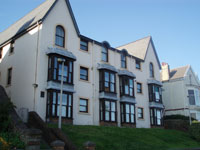 When is a Flat an HMO?
An individual flat within a block of flats will be an HMO if it is let to 3 or more tenants in two or more households.
However, a whole building containing flats, or a mixture of flats and bedsits, is included in the definition of HMOs in the Housing Act 2004  where it is converted and
a) part of the building is not self-contained, or
b) where it was converted and self-contained before (or without compliance with) "modern" Building Regulations 1991 (as a result of improvements to fire protections that were made after this date) and if more than one third of the flats are let out on short leases.  These converted buildings are otherwise known as Section 257 HMOs . The HMO (building) will not be subject to mandatory HMO licensing, but individual flats maybe if occupied by 5 or more persons forming more than one household.
So all HMOs with 5 or more persons, will be subject to mandatory licensing except section 257 HMOs and (since The Licensing of Houses in Multiple Occupation(Prescribed Description )(England) Order 2018) HMOs within self-contained, purpose-built blocks of flats with more than two flats in the block. 
Flats in a purpose built block of one or two flats such as may be found above commercial premises when occupied by 5 or more persons, will therefore require licensing.
Larger blocks containing HMOs of any size could be subject to additional licensing if the local authority chooses to introduce a scheme locally.
Section 257 HMOs and purpose built flats occupied as individual HMOs are often included in local housing authority additional licensing Schemes.
*A self-contained unit of accommodation is one which has a kitchen (or cooking area), bathroom and toilet inside it for the exclusive use of the household living within the unit. If the occupiers need to leave the unit to gain access to any one of these amenities then that unit is not self contained.