Energy Performance Certificate Requirements
From 1st October 2008, landlords have been required to provide Energy Performance Certificates (EPCs) for their properties including some HMOs.
From 1 April 2018 there has been a requirement for any private rented sector properties that require an EPC to have a minimum energy performance rating of 'E'or better. This requirement was extended to existing tenancies on 1 April 2020. 
Numerous exemptions may apply ranging from listed building status to cost of works and tenants' permissions. Exemption guidance 
Which HMOs need an EPC?
There has been some confusion over how the regulations apply to HMOs, but guidance from Communities and Local Government   is that "An EPC is not required for an individual room when rented out, as it is not a building or a building unit designed or altered for separate use. The whole building will require an EPC if sold or rented out."
So landlords who have an HMO, with shared essential facilities (bathroom, shower, toilet and/ or kitchen) and who have individual tenancy agreements with their tenants do not need to provide an EPC unless they sell the house or let it as one whole dwelling, or convert it to self-contained units.
A mixed property with shared and self-contained units will require EPCs for the parts that are wholly self-contained.
Landlords of completely self-contained flats and those who let houses to a group of sharers (with one contract between all of the occupiers) do need to provide an EPC when they let to new tenants since 1st October 2008.
These exemptions for shared HMOs are likely to  be modified in the future. Currently (December 2020) the Government Department for Business Energy and Industrial Strategy (BEIS) are consulting on increasing the minimum energy performance requirement to a 'C' grade. Consultation documents
What exactly is an EPC?
Each EPC has three parts:
Energy Efficiency Rating – relating to the running costs of the property
Environmental Impact Rating – relating to the carbon dioxide emissions from the property
Recommendation report – information on what the landlord (or tenant) could do to improve the rating of the property although landlords are not obliged to act upon any of the recommendations.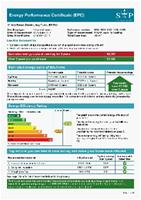 We are used to seeing energy efficiency ratings on household appliances such as fridges, freezers and washing machines. The Domestic EPC uses the same A-G rating system where an 'A' rating is the most energy efficient and 'G' is the least energy efficient.
The average property, at the moment is 'D' rated.
The Energy Performance Assessment involves an inspection of the whole property including any loft area and basements, inside and out, together with measurements of room sizes and photographs of key elements. For the most accurate assessment the following details will be required:
Age of the property
Model number of the central heating boiler (if any)
Documentary evidence of any improvements to the property such as double glazing, wall or roof insulation
Evidence of date and construction methods for extensions/conservatories/re-built areas of the property.
If this information is not available or if there is no access to parts of the property (e.g. the loft) the assessment can still be carried out, but assumptions may have to be made to allow an estimate of certain elements.
How long do EPCs last?
An EPC lasts for 10 years – a landlord does not need to get a new one for each new let, the same one can be re-used. If changes are carried out to the property which may affect the energy performance such as an extension, loft conversion, installing extra installation, new double glazing etc, a new EPC may be commissioned.
A new EPC will be required if a building is converted to contain a different number of dwellings or units with one EPC needed for each self-contained unit.
A landlord now needs to provide an EPC to a prospective or new tenant who moves into their property since 1st October 2008 (this does not apply to tenants who have been living at a property before this date). The EPC must be free to the tenant, or prospective tenant.
Who can carry out EPCs?
EPCs can only be produced by accredited assessors who have undertaken relevant training and are members of an Accreditation Scheme. These are often surveyors or managing agents who have undertaken relevant training. Landlords should check the accreditation of anyone they commission to carry out an EPC for their property.
You can look for an accredited assessor on the EPC Assessor website.
What are the penalties for not providing an EPC?
The Regulations are enforced by Trading Standards Officers (or Building Control Officers for new build properties) and failure to provide an EPC where the Regulations apply may result in a penalty charge notice. This charge may be applied repeatedly until an EPC is provided.
Further Information
Published on the Government website: