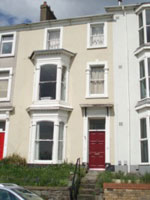 Fit and Proper 
Before issuing an HMO licence, the Housing Act 2004 states that the council must be satisfied that the proposed licence holder (and manager) of the property are fit and proper person(s). If not, the licence must be refused unless other satisfactory arrangements can be agreed.
The test is designed to ensure that those responsible for holding the licence and managing the property are of sufficient integrity and good character to be involved in the management of an HMO and that as such, they do not pose a risk to the welfare or safety of persons occupying the property.
A licence may be revoked where the council no longer considers the licence holder
to be a fit and proper person and/or that the management of the house is no longer being carried out by persons who are in each case fit and proper to be involved in its management.
Each applicant for a licence will be asked details of:
Any unspent convictions for offences involving fraud or other dishonesty, or violence or drugs or any offence listed in Schedule 3 to the Sexual Offences Act 2003
Any unlawful discrimination on grounds of sex, colour, race, ethnic or national origins, or in connection with the carrying on of a business
Any contravention of any provision of the law relating to housing or of landlord and tenant law (including any civil proceedings that resulted in a judgement against you).
Any applicant who does not declare unspent convictions will be committing an offence and liable to a fine.
In relation to any contravention of a provision of the law relating to housing, the
council will also take into account whether a proposed licence holder or manager:
Has had a licence revoked or refused, or been convicted of breaching the conditions of a licence under parts 2 or 3 of the Housing Act 2004
Owns or manages, or has owned or managed an HMO or house which has
been the subject of a control order under section 379 of the Housing Act 1985 in the five years preceding the date of the application; or any appropriate enforcement actions described in section 5(2) of the Housing Act 2004 (in relation to category 1 hazards).
Owns or has previously owned a property that has been the subject of an
interim or final management order whilst in their ownership, or a special
interim management order under the Housing Act 2004.
Is subject to a banning order under section 16 of the Housing and Planning
Act 2016.
Owns or has previously owned a property for which the council has taken
action as described in section 5(2) of the Housing Act 2004, which includes
the service of an Improvement Notice, Prohibition Order, Emergency Prohibition Order, Hazard Awareness Notice, Demolition Order or Emergency Remedial Action.
Each application will have to be considered individually by the local authority and the declaration of an unspent conviction would not necessarily mean that the applicant was not a fit and proper person.
Membership of a Government approved redress scheme
From October 2014 it has been a legal requirement for all letting agents and property managers in England to belong to a government approved redress scheme.
There are two approved schemes relevant to housing:
Membership of an approved redress scheme will be expected for all property
managers associated with licensable HMOs. Any manager who is not a member will not be considered to be a fit and proper person. Failure to be a member of an approved scheme is also a legal offence with fines of up to £5000
Dealing with tenants' behaviour
Each licence holder has an obligation to make sure that their tenants are not causing problems within the boundary of the property through anti-social behaviour.
The types of behaviour will vary, but could commonly include problems with loud music and parties or rubbish not put out properly for collection.
Whilst initially the first steps for dealing with such issues will rest with landlords, they may need & should expect to receive, assistance from local authorities, police and other agencies to deal with anti-social behaviour.